Our Motto:
"The Professional Difference"
About Macedonia's Premier Hair Salon
22nd Street Hair Studio is a trendy, contemporary salon that provides hair services for the entire family. Our staff is a culmination of over 30 years in business. Through our many services, we will listen to what it is you want to achieve with your hair and guide to that goal.
Our Mission Statement
You the client and your hair needs will be met with knowledge, professionalism, and dedication – for you and of our industry.
Our Staff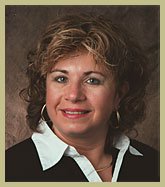 Gail Wharton
Owner, Professional Hair Stylist, & Wig Fitter Expert
Gail graduated from Maple Heights Cosmetology in 1974. Two years later, through the support of her parents she opened her own hair salon, Hair Fair, where she began to form many long-lasting relationships with clients. Continuing to stay ahead of hair trends, Gail left Hair Fair in 1987. She opened a new salon, Reflections Hair Studio in the comfort of her home. This gave her the opportunity to stay home and raise her two sons, while still staying active in this industry.

Furthering her career, she began working with wigs to help women in need. The lack of support and customer service Gail witnessed her mom had to endure, she wanted to make certain that no woman would have to feel any shame or disgrace through the loss of their hair. She pledges that each and every woman would be treated with respect, grace and dignity as well as leaving the salon feeling confident of how they look and feel. Working with women who have experienced hair loss has been and continues to be a very humbling experience for Gail, and she is very grateful.

Years later she accepted a position with a manufacturer of clippers and trimmers, Oster Professional Products, which she says, has been the pinnacle of her career as a stylist. Gail is able to travel throughout the United States, educating other barbers and stylists in the techniques of hair cutting and the use of the Oster tools. She also has the opportunity at the hair shows to sell these awesome products and help those with their clipper needs, pointing out the benefits of the Oster brand. Gail works with a fantastic, energetic group of people and has met some extraordinary artists, always learning something new, in this ever changing industry.
A word from Gail
Here, at 22nd Street Hair Studio, I was able to fulfill my dream of moving back into a commercial building, making it easier to meet and serve more people. Starting from scratch with bare walls and all, this move could not have been done without the continuous efforts of my family and friends. I wanted a contemporary, trendy look, keeping in mind we wanted to welcome the entire family. We were able to achieve just that! The opening was postponed from the end of March to April 14, 2010 to honor my dad on his birthday, for he passed away during the renovations. We at 22nd Street offer the best in customer service and professional services. Our staff consists of experienced stylists with a love of our industry and serving people, just like yourself.
I would like to thank my parents for their love, support, sacrifice, and always believing in me. Without them, I would not be who I am or where I am today! For Jeff, Michael & Joey your hard work and continuous support means the world to me!